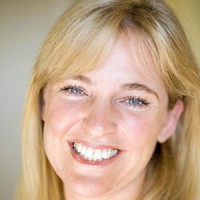 Kristin Groos Richmond founded Revolution Foods in 2005 with Kirsten Tobey to transform the way we feed our students.  Kristin continues to lead the growth of the Company which now serves over one million freshly prepared meals every week, across the country and recently, into grocery stores.  

Prior to founding Revolution Foods, Kristin's career spanned from corporate finance to education reform including co-founding the Kenya Community Center for Learning and serving as Vice President at RISE. Kristin was on the White House Council for Community Solutions and is an Aspen Institute Entrepreneurial Leaders In Public Education Fellow, an Education Pioneers Fellow and an Ashoka Fellow. She is a board member of Lighthouse Community Charter School and UC Berkeley's Global Social Venture Competition. Kristin was named a World Economic Forum Young Global Leader and, with Kirsten, is one of Time Magazine's Education Activists of 2011, is listed as one of Fortune's 40 under 40 for 2013, and most recently, was honored as a Schwab Foundation Social Entrepreneur for 2015.

Kristin has a BS from Boston College and an MBA from UC Berkeley. She currently lives in Mill Valley with her husband and two sons.
KEYNOTE LUNCHEON
Tuesday, September 29, 2015
After a delicious lunch provided by the Illuminators, get ready for bright ideas and bold strategy from one of the top minds in the game. Our keynote presentation combines perceptive analysis of the state of the industry with compelling new approaches that challenge convention.
Food Industry Entrepreneurism
California has established its reputation for being the center of many global innovations. Some of the largest, most respected and most disruptive companies are based in the Golden State. Innovations in technology (Apple), transportation (Uber), communications (Facebook), commerce (eBay) and just about everything else (Google) are being conceived of and getting their start here.
But what about the food industry? Where is the most innovative thinking happening and where might things be headed for our industry's critical issues?
California's entrepreneurs have begun to turn their attention to the food industry. Critical industry topics such as production, capacity, supply chain efficiency, sustainability, social media influence, on-line shopping and home delivery are reimagining and reinventing the culture of food.
Join us for an eye-opening discussion with distinguished panel of food entrepreneurs to identify the new approaches that are being developed today that will influence our industry over the next ten years.