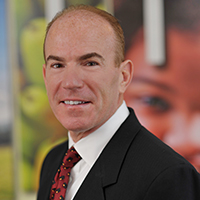 Karl Schroeder is the senior vice president of the combined Albertsons Safeway company, which is one of the largest food retailers in the United States. The company operates more than 2,200 stores across 14 divisions and employs about 250,000 people in 34 states and Washington, D.C.

Karl joined Safeway as a courtesy clerk in the Phoenix Division in 1976, and quickly moved up the ranks, earning his first store manager position in 1982. He became district manager in Metro Phoenix in 1990. Subsequent district manager assignments placed him throughout Northern California and Hawaii prior to being named vice president, retail operations for the Northern California Division.

In 2002, he was promoted to senior vice president, corporate retail operations, and named president of the company's 178-store Eastern Division. During his tenure in the Eastern Division, he was active on the Greater Washington Board of Trade.

In 2004, he returned to California as president of the Northern California Division. At the end of 2014 Karl was promoted to senior vice president of corporate merchandising for the new "Go Forward" Albertsons and Safeway Companies.

Karl served as the president and chairman of the Western Association of Food Chains (WAFC) during 2010 and now serves as an advisor on the executive board. Karl also serves on executive board for the Junior Achievement of Northern California the executive board for the California Business Roundtable and a board member on the Bay Area Council.

Karl earned an associate's degree from Mesa Community College in Arizona and a certification in Food Industry Management from the University of Southern California. He recently completed his bachelor of arts in Organizational Leadership & Behavior at the University of San Francisco. At USF, he was presented the "Dean's Medal of Excellence" from the McLaren School of Management in May of 2012. Karl was awarded the Executive of the Year honor from the USC Marshal School of Business in May of 2013. On October 15, 2014, Karl was awarded the Illuminator's Torch Award.

Karl lives in Walnut Creek, CA with his wife, Aurelia. They have three adult sons…all college graduates, one married, and three adorable grandsons. An avid runner and cyclist, he has participated in several endurance races throughout the region. Among his latest ventures is raising a small vineyard on his property that has produced varietals which is bottled and labeled for his family members.
MORNING SUPER SESSION AND RETAIL SPOTLIGHT
Tuesday, September 29, 2015
Grab a morning coffee and join us for one of two Morning Super Sessions; A thought-provoking, in-depth presentations by recognized industry expert or the popular Retailer Spotlight presentation.
Retailer Spotlight: Albertsons Companies, Inc.