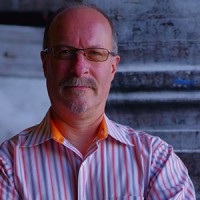 With over three decades leading retail design projects, Christopher Studach has not only participated in the growth of King Retail Solutions ("KRS"), but that of the retail design industry, specifically grocery. A graduate of Oregon State University where he satisfied his personal need for function (with a degree in Architectural Engineering) and form (with minors in fine arts and architecture), Christopher began his career as a designer and consultant in what was then a fledgling retail design firm. Since 1979, he has been instrumental in bringing respectability, beauty, and shopper science to food store design, a prominent market for KRS.

In 1993, Christopher was named Creative Director. Since that time, he has continuously overseen a design and drafting staff of over thirty. Over the years, Chris has mentored and managed over 100 retail industry professionals who continue to represent the cutting edge of international store design. Winning multiple awards each year for projects ranging from ultra-commercial to single store boutique, Christopher's exacting work standards and creative vision have been instrumental in expanding the capabilities of the business and widening the market from the top players in grocery to every branch of retail.

A frequent contributor to research and publications, Christopher continues to be an innovator in retail design and branding, and speaks regularly on the subject in classrooms, at industry events, and global design shows including FMI Connect and GlobalShop.
WHITEBOARD SESSIONS
Monday, September 28, 2015
To the drawing board! These loose, intimate sessions are designed to get creativity flowing in two energizing 45-minute sessions facilitated by industry veterans. Taking full advantage of the CGA Strategic Conference's diverse audience, these groups are organized by area of interest.
Tapping Into the Value of Farmers Markets
Farmers markets hold mass consumer appeal and thrive in thousands of communities across the U.S. The farmers market concept is structurally basic, yet difficult to reproduce, in whole or in part, on a commercial scale because they are self-contained, hyper-local, and constantly evolving with their community. What can retailers learn from these markets?
Innovators in branding a retail experience, stores like Whole Foods and Starbucks and Target, have figured out how to turn the drudgery of a shopping trip into a sought-after experience that mirrors a community market experience in many ways. The next wave of innovation will come from the retailers who take that a step further, getting more local, tapping deeper into the communities they serve, and creating environments that entertain, educate, and allow shoppers to linger and enjoy their purchases.
This group discussion will explore the complexities, benefits, challenges, and strategies retailers and brands can employ in creating a retail spaces that mirror the best aspects of a farmers market (while maintaining the consistency of experience, quality of merchandise, and overall shopping convenience your grocery shoppers expect from their store).