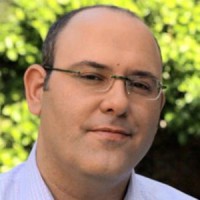 Dror Sharon is the CEO and co-founder of Consumer Physics, a privately held technology company with offices in Tel-Aviv Isreal and recently opened an office in Northern California. Consumer Physics' flagship product, SCiO, is a handheld molecular sensor that allows users to get instant relevant information about the chemical make-up of just about anything around and sent directly to your smartphone. SCiO was recently one of the most funded Kickstarter campaigns ever.

Dror holds a bachelors degree in electrical engineering from University of Maryland and Technion - Israel Institute of Technology and a MBA from Massachusetts Institute of Technology - Sloan School of Management.

Having worked for a variety of technology companies for the past decade, Dror is a respected leader helping bring new products to market and guiding companies through the VC investment process and utilizing his previous start-up experience to assist portfolio companies.
KEYNOTE LUNCHEON
Tuesday, September 29, 2015
After a delicious lunch provided by the Illuminators, get ready for bright ideas and bold strategy from one of the top minds in the game. Our keynote presentation combines perceptive analysis of the state of the industry with compelling new approaches that challenge convention.
Food Industry Entrepreneurism
California has established its reputation for being the center of many global innovations. Some of the largest, most respected and most disruptive companies are based in the Golden State. Innovations in technology (Apple), transportation (Uber), communications (Facebook), commerce (eBay) and just about everything else (Google) are being conceived of and getting their start here.
But what about the food industry? Where is the most innovative thinking happening and where might things be headed for our industry's critical issues?
California's entrepreneurs have begun to turn their attention to the food industry. Critical industry topics such as production, capacity, supply chain efficiency, sustainability, social media influence, on-line shopping and home delivery are reimagining and reinventing the culture of food.
Join us for an eye-opening discussion with distinguished panel of food entrepreneurs to identify the new approaches that are being developed today that will influence our industry over the next ten years.