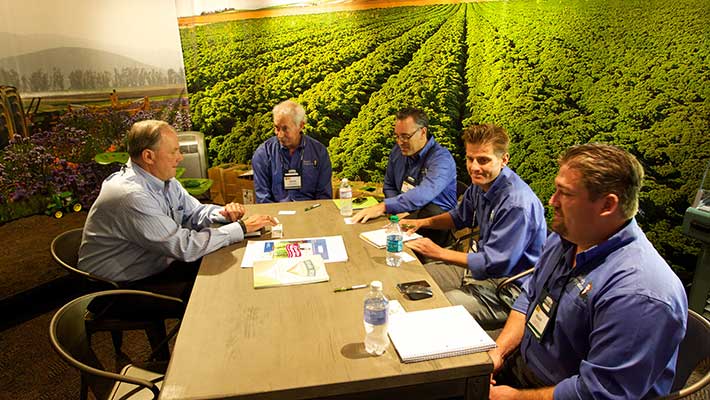 Like California's rich culture of food, the CGA Strategic Conference is fresh, fun, innovative, and committed to delivering on quality without compromising efficiency. Every year, hundreds of professionals representing the broad spectrum of the California grocery industry convene for three days in Palm Springs to collaboratively improve the industry and plan for its future. Our conference team is dedicated to hosting an event that celebrates and inspires California grocery to continue to deliver the best to its customers.
Join us this September for three super-charged days featuring cutting-edge presenters, rewarding forum discussions, and other top-notch educational programming designed to propel your business forward. Make sure to take advantage of standout networking opportunities such as the private, pre-arranged meetings with retailers included in our sponsorship packages.
Each year, we combine these foundational elements of conference success with exciting new events that anticipate the changing trends and direction of the industry. Ultimately, nothing speaks to the enduring success of the CGA Strategic Conference like the praise of our participants, who affirm that this annual gathering is an ever-renewing source of challenging ideas, perceptive advice, and solid connections to implement and build on in the year ahead.
"There is no other conference where one is able to learn nearly as much about the current state of the CA grocery industry, as this one. That and the fact that you leave the conference with a very thorough understanding of the marketing strategies for major manufacturers & suppliers, for the following year. The entire conference is extremely well planned, and executed."

Kurt Erickson
Vallarta Supermarkets
2015 CGA Strategic Conference Planning Committee
Joe Falvey (CGA Board Chair)
Executive VP & President Market Centre
Unified Grocers, Inc.
Raul Aguilar
Sr. Director, Retail Sales
Anheuser-Busch InBev
Dennis Belcastro
VP, Industry Affairs & Customer Development
Kimberly-Clark Corporation
Paul Cooke
VP, Trade & Industry Development
Nestle Purina PetCare
Brent Cotton
Director, Customer & Industry Affairs
The Hershey Company
Kevin Davis
Chairman, President & CEO
Bristol Farms/Lazy Acres
Richard Draeger
Owner
Draeger's Supermarkets, Inc.
Diana Godfrey
Group VP, Sales & Merchandising
Smart & Final Stores
Arthur D. Jackson, Jr.
VP General Administration
Costco Wholesale
Casey McQuaid
Director, Customer Development
E & J Gallo Winery
Omar Milbis
Director, Sales & Marketing
Rio Ranch Markets
Shannon Nadasdy
Sr. VP, Retail Development & Client Support
Financial Supermarkets, Inc.
Mark Olejnik
Sales Manager
C&H Sugar Company/Domino Foods Inc.
Chris Podesto
Vice President, Marketing
Food4Less/Rancho San Miguel Markets
Bob Richardson
Director, Sales, Customer Development
The Clorox Company
Craig Rosenblum
Partner
Willard Bishop Consulting, Ltd.
Dennis Spiller
VP, National Sales
Jelly Belly Candy Co.
Kori Tuggle-Dinner
VP, Marketing
Church Brothers Produce, LLC
Jim Wallace
VP, Retail Initiatives
Albertsons
Kevin Konkel
Committee Chair
SVP Operations
Raley's Family of Fine Stores
Teresa Anaya
Manager, Human Resources
Northgate Gonzalez Markets
Vic Chiono
VP Sales, West USA
Coca-Cola Refreshments
Darrell Costello
Manager, Reusable Bags
Roplast Industries Inc.
Willie Crocker
Director, Retail Customers South
Bimbo Bakeries USA
Dave Dimond
Senior VP, Sales
Milton's Baking Company
Jim French
President, Northern California
Co-Sales
Michael Golub
Sr. Director, Marketing & Sales
Administration
C&S Wholesale Grocers
Dave Jones
VP, Industry Initiatives
Kellogg Company
Dave Madden
Regional Chain Director
MillerCoors
Dan Meyer
EVP, Retail Operations
Stater Bros. Markets
Philip Miller
VP West Region
C & S Wholesale Grocers
Hee-Sook Nelson
VP, Customer Relations, Employee Development
Gelson's Markets
Keith Olscamp
VP, Industry Relations & Trade Marketing
Campbell Soup Company
Veronica Rendon
Business Developer Manager
Alta Dena Certified Dairy
Glen Roeper
Dir., National Accounts, Safeway
Snyder's-Lance, Inc.
Julie Sanchez
Administrative Assistant
Whole Foods Market
Dirk Stump
Vice President
Stump's Market
Jim Van Gorkom
SVP, Sales & Marketing
NuCal Foods
A note from our 2015 Conference Chair:
"The CGA conference is an opportunity every company in the California Food Industry should seize. The ability to connect at a rapid pace with multiple existing and new business relationships is a win for all concerned."

Kevin Konkel
Senior Vice President, Operations
Raley's